Become one of our Friends With piXanTM
(Become a friend with your spirit)
Purpose of forming Friends With piXan
We are creating a huge project in the Yucatan with many aspects and dreams of expanding beyond Agave and sheep and we welcome people who would like to contribute, either in ideas and/or skills, and become part of our future plans.
Benefits for Friends With piXan
1) Receive 1 750ml bottle of piXan® from first production (around 2018 with retail price of about $200 per bottle)
2) Receive Friends With piXan newsletter
3) Invited to join Organica Maya® tours to be organized in the coming years. It is a way to have a vacation as well as develop and share skills with like-minded folks. Groups we will be looking to form include but are not limited to the following interests:
a) Agave liquor (Tequila) connoisseurs wanting to see and contribute to the experience of growing and processing agave to produce piXan Agave Liquor,
b) Botanical interests in herbs and medicinals on our land, which will include hikes led by local Mayans,
c) Builders interested in learning local methods, such as building palapas, and other construction techniques,
d) Feldenkrais and practitioners of other alternative health modalities wanting to have a shared experience in a unique environment,
e) People either versed in raising sheep and/or wanting to learn about raising them f) Farmers and agricultural experts wanting to learn about growing agave and wanting to share their own knowledge and ideas,
g) Permaculturists and people interested in creating eco-villages wanting to share and learn about possibilities in this environment.
We will not have our own facilities to accommodate visitors and do not expect to have them for at least several years. Thus your group will stay at local motels and B&Bs in Valladolid in the center of the Yucatan, only 1.5 hours from airports in Cancun or Merida. Below is one of those B&Bs that we stay at and enjoy.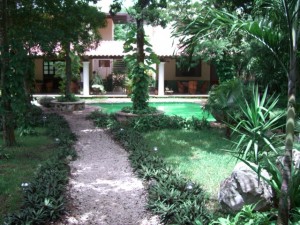 We will go to our ranch, which is only ½ hour away. Tours will be developed keeping in mind to find people with similar interests who can enjoy meeting each other as well as enjoy aspects of life and business in the center of the Yucatan. Besides specific activities related to the focus of your group, you will also have the opportunity to swim in our cenote and hike on our ranch. Of course you can partake in normal tourist activities in the Yucatan on your own and with members of your group. Tours will begin as groups are formed in the coming years.
There is no timetable as to when a tour will be conducted but we hope to allow the organic development of groups over time and bring together people to plan their own tour with us. We are still in business in the U. S. and therefore only visit our land at certain times of the year.
These tours are not being developed for us to give you an experience in the Yucatan. They are being considered as a way for all of us to learn from each other and a way to meet new friends and people that have skills of interest and are interested in sharing their knowledge in a cooperative, heartful manner. We are looking for like-minded spirits – piXan.
Cost to Join Friends With piXan – $50 USD is the one time fee.